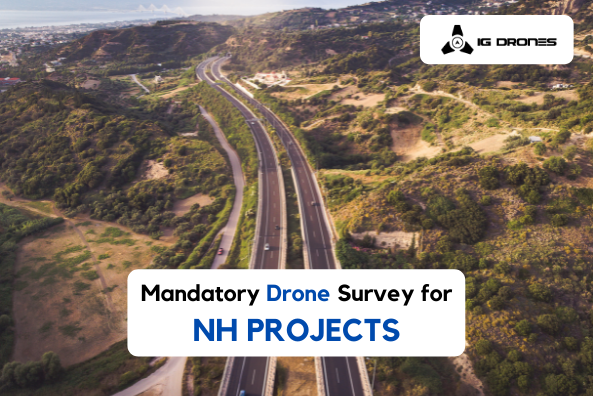 Drones in Road Infrastructure
Recently, the National Highway Authority of India mandated the use of Drones for the proper monitoring of all National Highway projects during different levels of their construction, operation, and maintenance leveraging the latest technology to enhance transparency & uniformity.
Contractors and Concessionaires shall carry out the drone video recording on monthly basis in presence of the Team Leader of the Supervision Consultant and upload comparative project videos on NHAI's portal 'Data Lake', capturing various project related developments during the month. Additionally, from the date of the contract agreement until the commencement of work on site and until the project is completed, NHAI project directors will conduct monthly drone surveys. In all established projects where NHAI is responsible for management and maintenance, NHAI will conduct a monthly drone survey, according to the NHAI circular No. 18.69.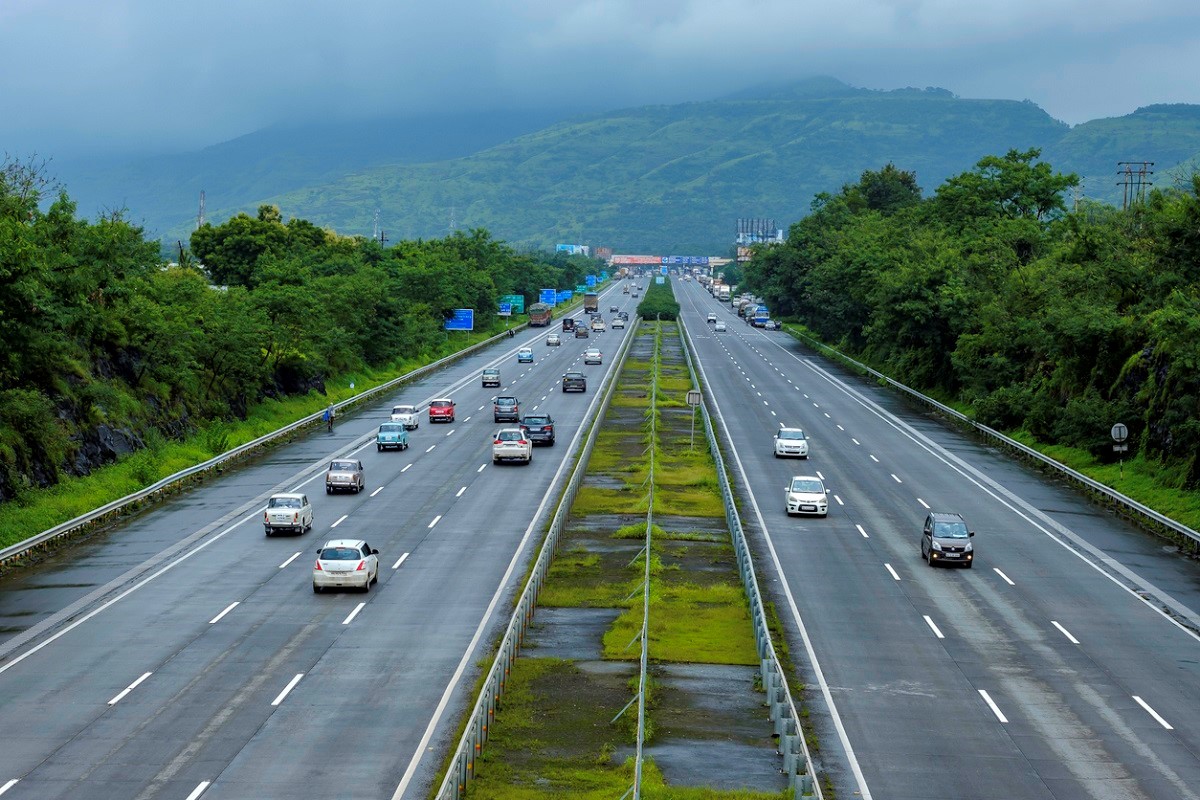 "Supervision consultants shall analyze these videos and will provide their comments on the digital monthly progress reports covering various aspects of the project development. These videos will also be used by NHAI officials during the physical inspection of the projects to check the discrepancies and rectifications made on the earlier observations," the Ministry of Road Transport and Highways said.
But what could possibly be the reason behind such a major decision is the main food for thought!
According to media reports, private bidders are quoting cheap prices for government-funded highway projects, which has sparked concern and has been highlighted by a parliamentary standing committee. Abnormally Low Bids (ALBs) would be categorized independently in the data lake. So that the project director and regional officer of the respective technical division can see the information that has been uploaded. Reports would be issued on a monthly basis for monitoring and review.
The traditional method of progress monitoring is highly inefficient, relying on written reports and photos taken from eye level- There is a clear need for greater visibility. The flow of information is inefficient as well, where the general contractor reports their respective update to the site engineer who then updates the Project Manager. These reports are communicated via time-consuming meetings. The project manager spends a bulk of their time compiling and generating these reports; this time can be put to better use. And with the help of drones, it can be accomplished within no time.
Let's analyze some advantages of drones that have provided them an edge over the conventional inspection methods.
Efficient & Diligent Construction with Drone Progress Monitoring
According to a study by McKinsey, the construction industry struggles with a great deal of inefficiency. Large construction projects typically take 20% longer than expected to complete and are up to 80% over budget.
Compared to other sectors, the industry has been slow in embracing new digital technologies, even though the long-term benefits are significant. 
Its high time that the construction industry starts embracing the new technology. And according to the study, commercial drones - or unmanned aerial vehicles (UAVs)—are key to this. In fact, some construction companies have already jumped on the professional drone bandwagon. 
In 2020, the sector saw a 239% increase in the adoption of drone technology. In its report on the impact of drones, PwC states that the use of drones throughout a construction project provides an unparalleled record of all activities; cuts planning and survey costs; increases efficiency and accuracy and eliminates disputes over the status of a project at a given point in time. 
No wonder a drone program is currently a terrific investment for construction companies!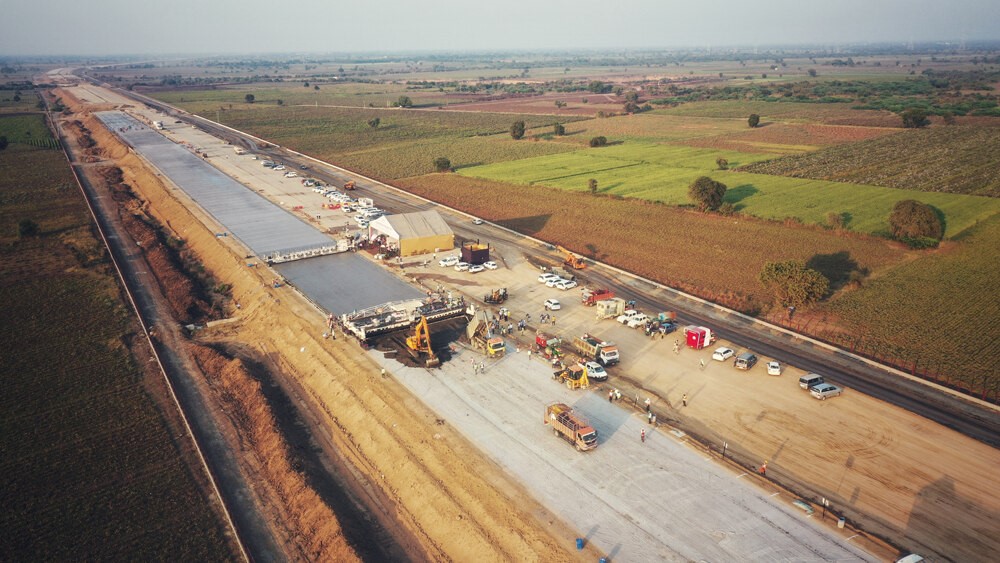 In the words of Peter Diamandis,
Drones photograph, prospect and advertise real estate from the golf course to skyscrapers, they also monitor construction in progress.
Benefits of using drones for infrastructure projects 
 
•

Fast, reproducible, on-demand image acquisition
•

Accurate and comprehensive data
•

Time saving & Pocket Friendly
•

Better documentation 
•

Remote access to the current status
•

Increased safety
 
"With the introduction of drone technology, we have observed 32% decrease in snag list compilation time, and 25% reduction in time spent on reworks".
Why is IG DRONES a great fit for infrastructure projects?
Before implementing a drone program, it's essential to choose the right model for the job. IG DRONE combines the best of both worlds, with the added benefit of an easy workflow and well-integrated, high-quality GPS/GNSS sensors and positioning systems. 
And since an entire construction project will be based on geospatial data, it needs to be accurate. 
Equipped with the 48 MP full-frame camera and a multi-frequency GPS/GNSS receiver, the IG DRONE delivers best-in-class GSD down to 0.7 cm/px (0.3 in)/px GSD and absolute horizontal accuracy, down to 1 cm (0.4 in). It can thus quickly generate detailed, high-resolution imagery on large areas, also enabling excellent accuracy around stockpile and earth volume calculations.
IG DRONES has carried out Road Survey & Videography for condition & status monitoring for NHAI at following places: Visakhapatnam, Nellore, Nandayal, Rajamundry, Vijayawada, Anantpur, Amaravathi, Tirupati, Hyderabad, Nirmal, Warangal, Khammam, Begusarai, Darbhanga, Chhapara, Patna, Purnea, Gaya, Motihari, Sasaram, Sagar, Gwalior, Chhindwara, Jabalpur, Guna, Indore, Bhopal, Shivpuri, Narsinghpur, Chattarpur, Katni, Bengaluru, Chitradurga, Dharwad, Gulbarga, Hospet, Mangaluru, Hassan, Shimoga, Ramanagara, Surat, Ahmedabad, Rajkot, Gandhidham, Somnath, Bharuch, Chandigarh, Hissar, Rohtak, Ambala, Jalandhar, Mandi, Shimla, Jammu, Srinagar, Ranchi, Dhanbad, Jamshedpur, Sahibganj, Palakkad, Cochin, Kozhikode, Thiruvananthapuram, Bongaigaon, Nagaon, Halflong, Guwahati, Shillong, Sambalpur, Bubaneswar, Balasore, Rourkela, Keonjhar, Dhenkanal, Jaipur, Udaipur, Sikar, Jodhpur, Barmer, Kota, Ajmer, Dausa, Chittorgarh, Bikaner, Bundi, Jaipur (South), Chennai, Coimbatore, Karur, Karaikudi, Krishnagiri, Nagercoil, Madurai, Salem, Thanjavur, Villupuram, Trichy, Bangalore, Agra, Aligarh, Meerut, Moradabad, Bareilly, Jhansi, Lucknow, Raebareilly, Allahabad, Kanpur, Gorakhpur, Varanasi, Azamgarh, Ghaziabad, Rudrapur, Dehradun, Nazibabad, Kharagpur, Kolkata, Jalpaiguri, Durgapur, Malda, Krishnagar, Nagpur, Aurangabad, Dhule, Nanded, Yawatmal, Amravati, Washim, Raipur, Bilaspur, Dhamtari, Faridabad, Gurgaon, Dwarka, Delhi, Pitampura, Greater Noida (NCR). As IG Drones takes another step towards normalizing the use of drones to carry out several important tasks in the construction of roads, we feel highly satisfied to see the purpose behind the creation of IG Drones finally being served.
Wondering what else the IG Drones can do? Come visit our website IG DRONES to know more about us and avail our services. Imagine, Inspire and Innovate with IG Drones.